A new update for the Plant Base Linux edition – 2.1.10 Beta 5
There is only one change from the recently released 2.1.10 Beta 4, but this is significant for anyone wishing to install on one of the latest popular Linux distro versions.
The built-in Help function has been re-worked so that it now uses only simple plain text files, rather than the previous HTML format (as still found in the Windows and Mac editions). Dropping the web-page rendering component means that the program no longer has a dependency for the WebKit library  to be installed (libwebkitgtk).
This is important because the required version of this library is no longer available from the standard repositories of many new Linux distros.  So the good news is that from Beta 5 the Plant Base program doesn't need it any more and now has no special prerequisites.  The Plant Base program should install and run on almost any Linux distribution type.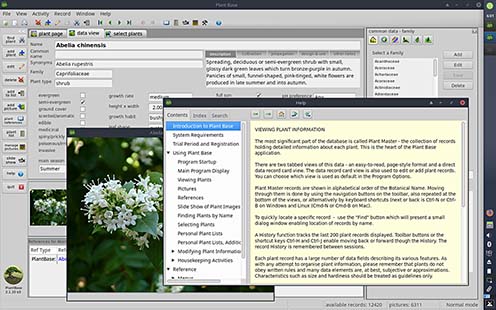 The only disadvantage is that the plain text Help is less attractive than the HTML format and of course has no images or embedded links.  But all the essential information is still there!  In case Linux users want to view the HTML version, those files are also provided and can be opened externally in a web browser – a menu option for this has been added to the program.  This second set of Help files can be deleted if not wanted.
There is no other change to the main program – it's exactly the same as Beta 4.
This release has been successfully tested on the following:
MX Linux 18  (64 and 32 bit)
MX Linux 19 (64 and 32 bit, Xfce and Fluxbox)
Mint 18.3 Cinnamon
Mint 19.2 Cinnamon
Mint 20 Cinnamon
Ubuntu 19.10
Ubuntu Mate 18.04
Manjaro 17.1
Antix 19 (32-bit)
OpenSUSE 15.1 KDE
Debian 10.2 Gnome (some text cropping in buttons and boxes)
Debian 10.2 LXQt
Salix OS 14.2 (32-bit)
Fedora Workstation 31 (some text cropping in buttons and boxes)