The Linux desktop edition of Plant Base has been updated to the same level as the Windows and Mac edition. Also some extra bug fixes and other small changes specific to the Linux edition have been included.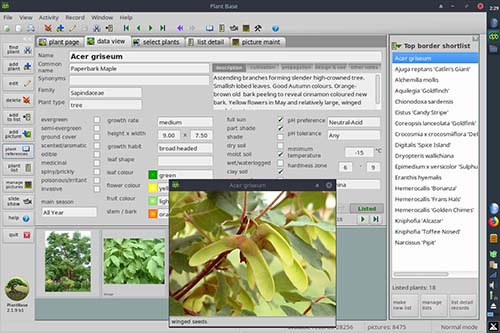 This is still definitely only at the Beta stage! However, I'm really pleased with how it has been running on my own systems and it has been perfectly usable here.  There have been no issues at all with the database access side of things. Not surprising perhaps, as this shares the same code as the other editions. Development and initial testing have been done on two MX Linux systems, 64-bit and 32-bit, with additional testing on Linux Mint.
This Linux edition is available on a limited release basis. There is no guarantee that it will work on all systems and it should be regarded as a test version. The program uses the GTK+2 toolkit for the GUI.  This is included by default on most distributions but some very new ones are starting to drop it in favour of a later version, so it may need to be installed. The only other prerequisite is libwebkitgtk, which is no problem for Debian or Ubuntu based distributions as it's available from the standard repositories. This is only used for the Help subsystem and the main program will run without it.
As far as we are aware, Plant Base is the only native application of this type available for Linux systems. It's a simple stand-alone program, easy to install and run, and does not need an internet or server connection.
Anyone interested in trying the Linux edition should contact me by email (see Contact web page).  In common with the other editions, new installations run as a 20 day free trial. A licence code is needed for permanent use, the same as for Windows and Mac. For Linux users who are prepared to provide some basic information about their set-ups, there is a possibility of a free Linux-only licence – email me to ask about this.